/ Over 2 million views on the Bazzara channel /
/ More than 500 videos uploaded /
---

/ Daily interactions via our Facebook page /
/ Daily posts / Very high reach /
---


/ 3000 followers / High quality photographs /
---
Communication, for Bazzara, is synonymous with popularization: the commitment of the Bazzara brothers has always been that of divulging the culture of quality Italian coffee, all over the world.
They do this by making perfectly calibrated espresso blends, offering an extraction in cup worthy of being called Italian excellence, available on the market to all distributors.
The creativity of the internal communications department is to carry out advertising campaigns both on paper and social media.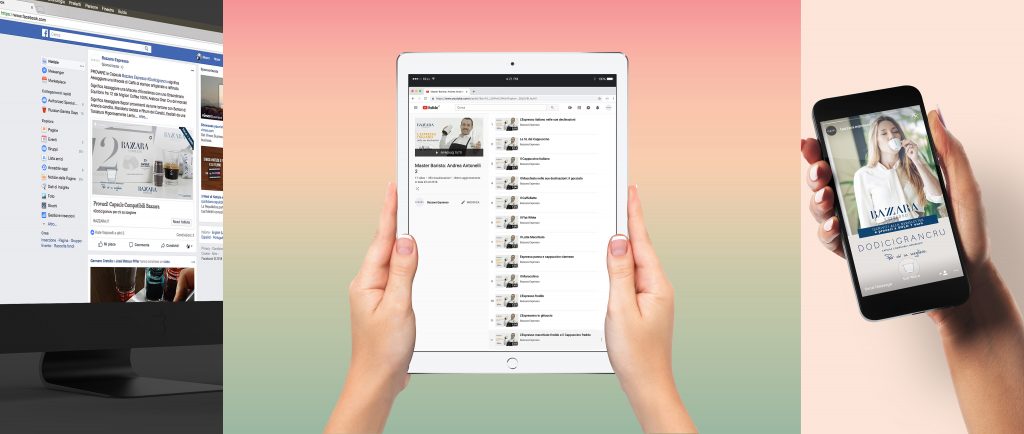 But there are also a number of interesting initiatives added to the mix that also support their activity as roasters. In the video, you can hear the words of the representatives of some of the companies that, for many years, have supported the initiatives aimed at spreading the culture of quality coffee both in Italy and abroad that nowadays makes the Triestine company seen as also one of the best communication agencies in the sector.
The first of these initiatives was the launch of an editorial project that today consists of three volumes recognized as reference texts by both coffee enthusiasts and professionals. In fact, the Bazzara books are increasingly used as didactic tools in training courses for numerous coffee schools all over the world. This is accompanied by a vast video production: Master Barista, for example, is a series thanks to which young baristas can acquire the tricks of the trade and also master the world of Latte Art, so that they may offer a cappuccino that is a joy to behold and taste. While the Italian Coffee Icons format tells the story of the protagonists of the Italian coffee sector – how their passion for coffee developed and what made it possible to reach the stages of entrepreneurial success. And last but not least, the Trieste Coffee Experts, the summit organized by Bazzara that every two years (the fourth edition scheduled in September) brings together the protagonists of the Italian coffee world in the Giulian capital with the aim of creating a network, facilitating the creation of new synergies among companies and share solutions to face the challenges presented by the brand. It is therefore not surprising that important entrepreneurial realities continue to support these initiatives in order to achieve the common aim of spreading Italian excellence throughout the world.